One of my favorite fall trends this year has to be the pyramid stud. Pyramid studs were once the domain of Sex Pistols and wannabes who shopped at New York's favorite punk kid hangouts. These days, you're much more likely to see them on the runways of Burberry and Marc Jacobs, lending a bit of edge to otherwise-polished ensembles.

To make this look less teenage rebel and more fashion foward try pairing something studded with something feminine such as bright colors or a floral print.

As always, the key is to wear your look with confidence…
a bit of that punk attitude won't hurt either. Rock on!
Mary Kate Olsen in a studded givenchy jacket


Some of my favorite studded peices for the season include
Burberry Nella Studded Satchel
Made from black leather and adorned with gold-tone hardware and studs, this bag may be pricey (available from neiman marcus for 2,995.00) but if your one to splurge on designer purses, i recomend it.
I simply adore this bag.
Studded Vintage Combat Boot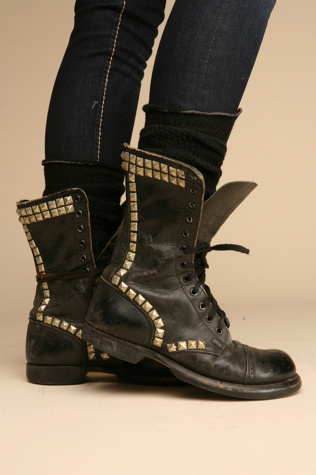 Vintage leather combat boots with brass or silver stud detail throughout.
These can be found at
Free People
Coming in at 388.00, these are the perfect boots to pair with a girly dress to give you just enough edge to get you noticed!

Probably my favorite studded shoes i have come across this season, these are the one thing on my christmas list i really hope santa brings me!

While I am on shoes, here are a couple other studded shoes I would reccomend checking out (all available from
Free People
)
Studded Vintage Converse High Top
Vintage Converse high top sneakers with hand attached metal studs on one side. Rubber sole and lace up closure. Padded footbed. Studs will vary between brass and silver, availble for 168.00 in four different color choices.
Cross Stitch Stud Moccasin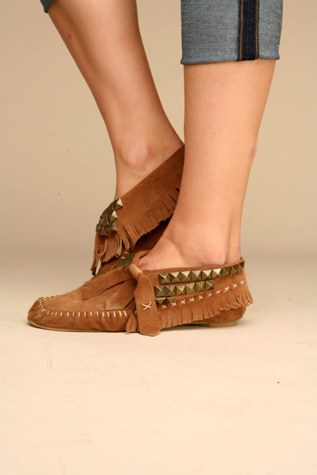 Suede fringed moccasin with cross stitch design and decorative studs. Tie at the side. Rubber sole. Padded foot bed. Made exclusively for Free People by Jeffrey Campbell. Availble for 118.00

And for those of you who would like to make less of a statement check out these
studded accesories
Pyramid Stud Cuff
available from
Brooklyn Industries
for a bargain of a price at only 12.00
Kenneth Jay Lane Pyramid Stud Ring
available from 
Max&Chloe
78.00
Kenneth Jay Lane Pyramid Ring
also available from
Max&Chloe
98.00