Hitting the runway in such styles as mini dresses, shirts, pants and outerwear, plaid is deffinately in for the season. In different shapes & sizes, and ranging in colors such as bright blue and red to more nuetral browns and blacks. Some designers featuring plaid in theyre shows include Ralph Lauren, Dolce & Gabbana, Luella Bartley, Charlotte Ronson and House of Holland just to name a few of my top picks. One thing popularly shown is mixing prints. If your a risktaker with fashion I think this look is great.
My favorite way to wear this trend is with a bit of grunge appeal, menswear type tops and shirtdresses that pair perfectly with boots.
Some of my favorite looks from the runway include
Ralph Lauren Fall 08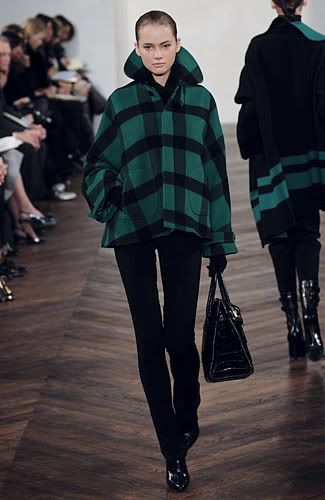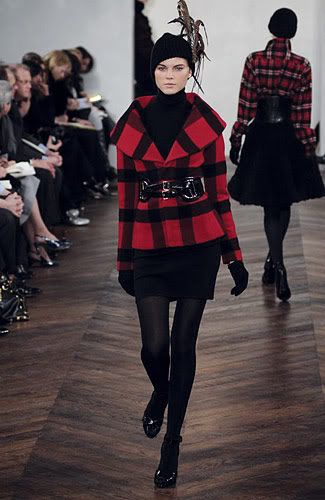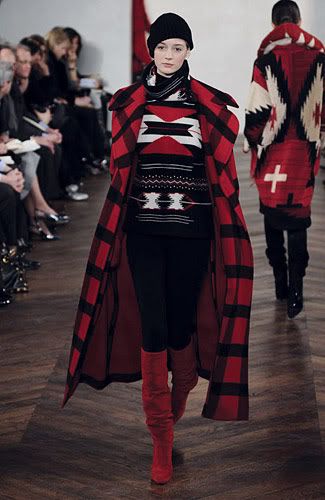 Dolce & Gabbana Fall 08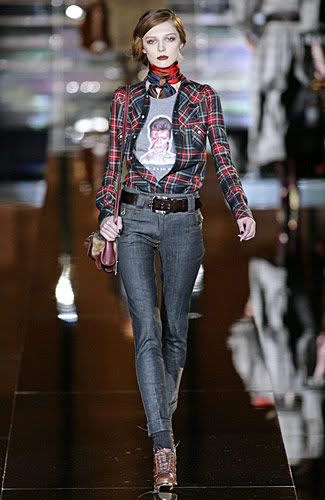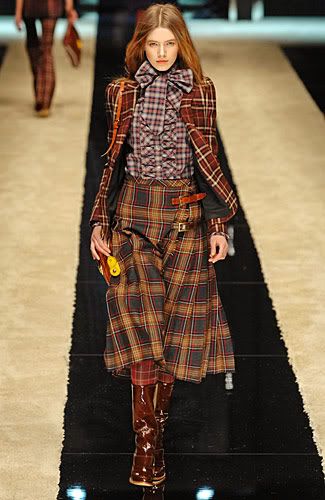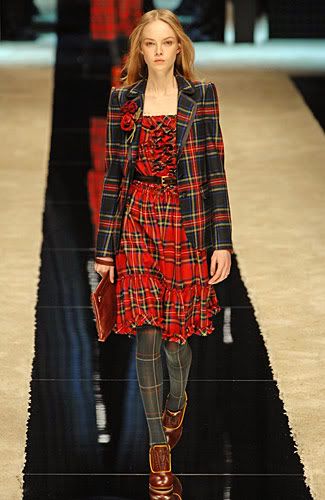 Luella Bartley Fall 08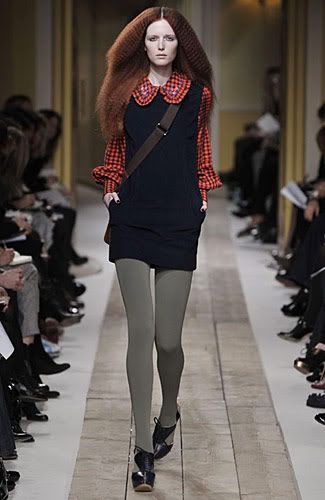 House of Holland Fall 08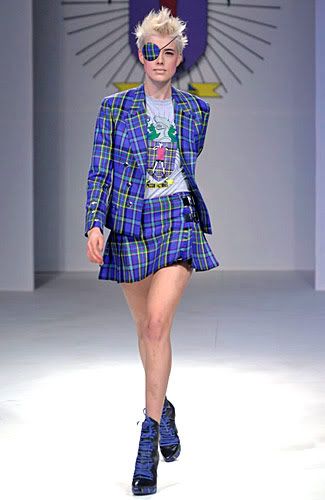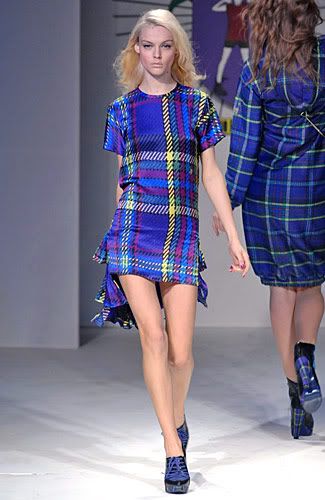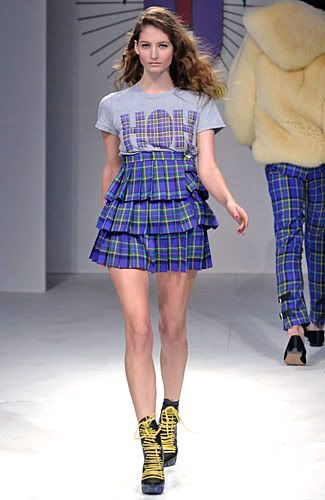 Isabel Marant Fall 08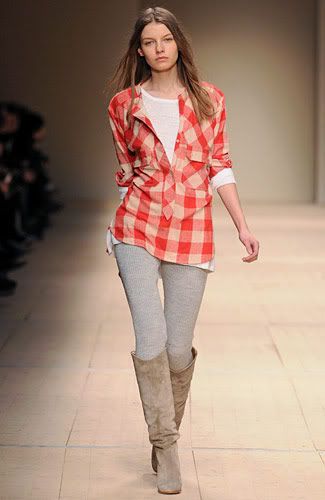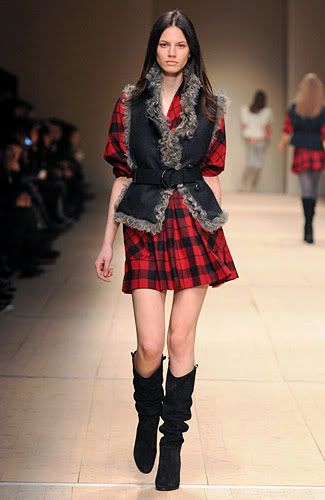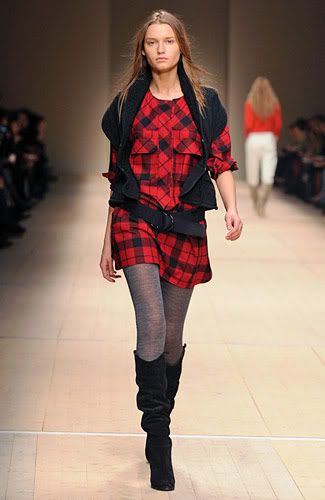 Some of my other favorites on the runway included
Charlotte Ronson Fall 08
Tibi Fall 08
Miss Sixty Fall 08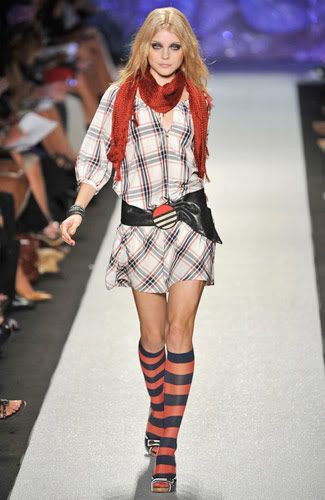 Aside from just runway plaid has been seen everywhere from topshop to urban outfitters. Now I have to tell you, when I first saw the Fall 2008 Lookbook for Topshop my jaw dropped. It was literally filled with outfits I could only imagine were in my wardrobe. I really wish I owned every article of clothing envolved. Every single look was flawless, but for now I will just be showing the outfits involving some sort of plaid.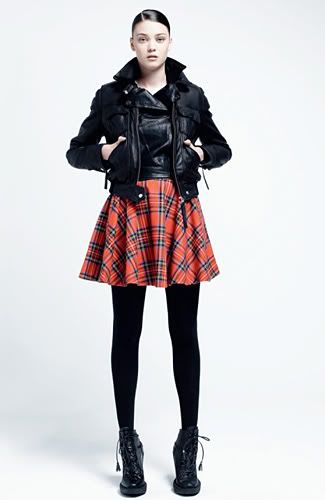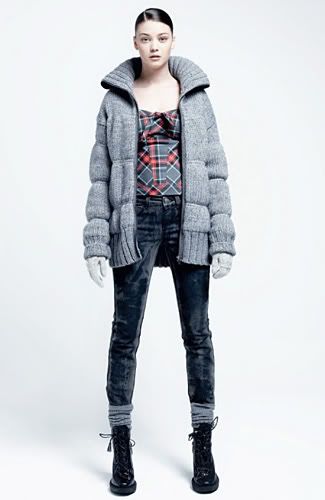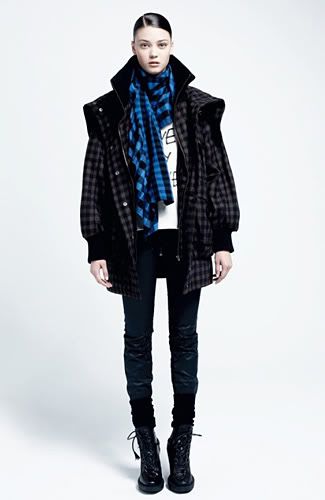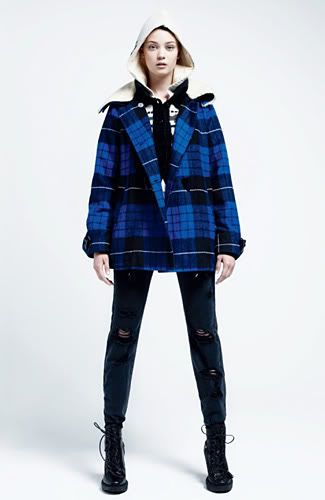 Here are some of my top picks for plaid this season
Urban Renewal Shrunken Flannel
Classic vintage men's flannel shirts have been fitted in a more modern, feminine fit and topped with cropped sleeves. Created from vintage men's flannel shirts, each and every one of these shirts is 100% unique. Choose your favorite shade and we'll do the rest, sending you a completely original piece - the silhouette will stay the same as what you see here, but the colors may vary. Exclusive to Urban Outfitters. Made in the USA from recycled fabrics. Hand wash. Available in four colors. available at Urban Outfitters for 48.00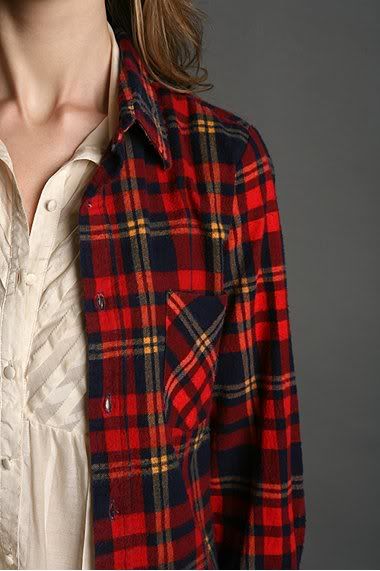 Ombre Plaid Coat
Plaid wool coat belted at the waist with a long self-tie sash. Hidden zip placket with a wide collar with button detailing. Finished with cropped sleeves trimmed with buttoned tabs. Full satin lining. Imported. Hand wash. Available at Urban Outfitters for 98.00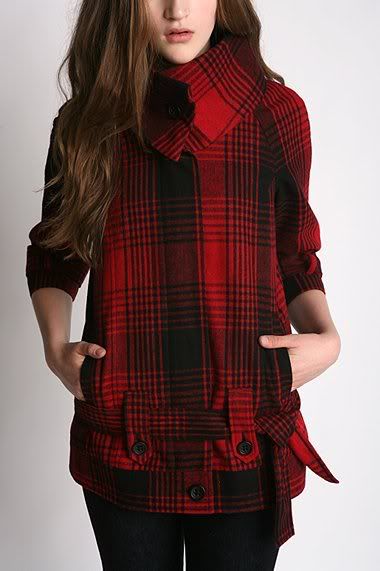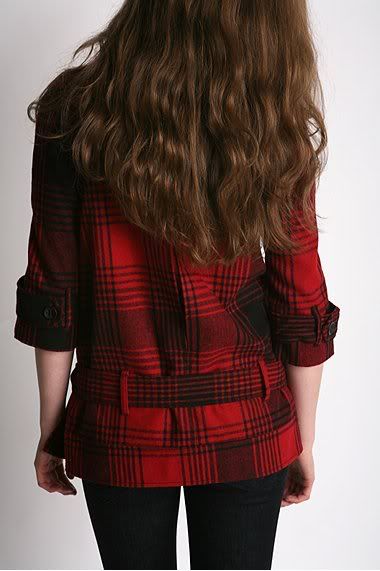 Silence & Noise Full Plaid Skirt
Plaid wool skirt cut extra-short in a full, circle silhouette. Fully lined and topped with a wide rib-knit waistband that can be worn up or folded down. Exclusive to Urban Outfitters. Imported. Hand wash. Available at Urban Outfitters for 58.00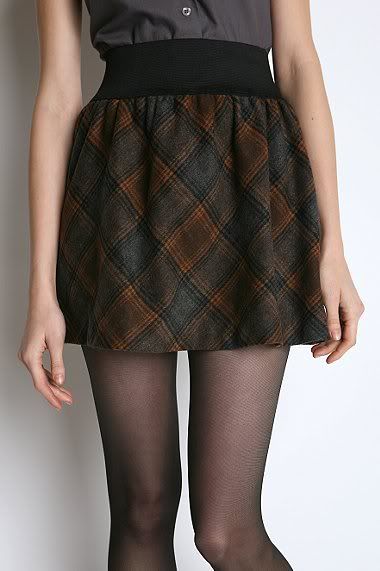 Bright Plaid Winter Scarf
Lighten up the cold winter nights with this bright plaid long length scarf with short fringed ends. Available at Forever 21 for 5.80
Buffalo Plaid Snowjogger
Plaid knit snow boot with suede and leather trims. Double velcro closure at the back. Fully lined with Sherpa. Rubber sole. By Rubber Duck. Available from Free People for 80.00